Well golly gee, can you believe it? Kassi, over at
Truly Lovely
, thinks I'm truly lovely, too!
She passed along the Stylish blogger Award to me!!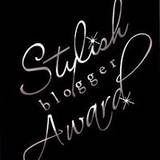 This award does come with some fine print. But what
doesn't
now-a-days?
So after receiving this award, you share random facts about yourself, & choose much deserving bloggers to pass this fabulous award onto! There's something about passing it on to 15 bloggers, but I think that 1 or 5 also works.
Here goes:
7 Things About Vicki:
1. I'm a school teacher by day. Second grade (7 & 8 year olds) to be exact. And I LOVE it. I honestly can see myself teaching for the rest of my life. Maybe this is because I don't work well with adults (no patience for ignorant adults, but for children- the world).
2. I love photography: taking pictures, editing pictures, admiring others photos. ALL of it. (related: I can't figure out how to use Photoshop to save my life, but am learning through blog tutorials!)
3. I speak Spanish when I get beyond a little drunk. "Tu eres mi jamon y queso."
4. I have an Old Navy Visa and am not afraid to use it. This is not an add or sponsored post, but seriously the benefits this card brings me are amazing. You can use it at any of the affiliated stores. Just recently at GAP I bought 2 pairs of jeans, a shirt, and a mustard colored skirt (yes, necessarily detail) for $64 total. For. Serious. (you might also say I love to shop)
5. My pets are named after Beatles songs, with the exception of Melonball. Don't ask.
6. I eat oatmeal for breakfast 6 out of 7 mornings a week. My favorite flavor accent variations are: almond butter & blackcurrant jam (like PB & J), honey crisp apples and cinnamon, bananas and almond butter, & apple butter. Also? I eat my breakfast at the computer while I publish/read my morning blog posts.
7. In yoga, my most proud accomplishments are crow pose, headstand, and most recently, hand-stand!
And here are 5, stylish bloggers who I pass this award on to:
(recently engaged, go read the whole action-movie-like story!)
(momma with a new hairs-do and adorable son!)
(hip-momma, scentsy selling and IRL friend - cute lil' girl, too)
(Wisconsin soon to be bride and fun lady!)
(A teen bride and soon to be momma!)

Congrats, stylish ladies!!!